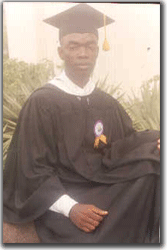 Josephus Moses Gray
The Foreign News Editor of The INQUIRER Newspaper, Josephus Moses Gray, on 28th May, proudly and majestically walked out of the walls of the University of Liberia (UL), with a Bachelor of Arts Degree in Mass Communication and Political Science, with concentration in Print Journalism and International Relations.
This achievement of Editor Gray, who is also the out-going president of the University of Liberia Press Club (ULPC), followed the successful completion of studies over the last five academic school years at the UL.


The INQUIRER editor was among the 916 recent graduates of the University of Liberia for academic school year 2001/2002. Out of the total number of graduates, the Department of Mass Communication chaired by Associate Professor Joe W. Mulbah produced 24 graduates.


Of the 24 Mass Communication graduates, 11 are members of the University of Liberia Press Club (ULPC). They are Augustus B. Fallah, Khalifa V. Sheriff, Calixte S. Degni, Sarah Hayes-Cooper, Shafa M. Daffeh, Amelia D. Kollie, J. Foley Pusah, Isaac Williams, Alphonso B. Teah, Ebenezer S. Brown and Josephus Moses Gray.


Mr. Gray entered the University of Liberia during the Second Semester 1997/98 academic school year as a freshman student, and successfully enrolled through the various levels to the status of a senior student before graduating on May 28, 2003.


Editor Gray brings to five the number of The INQUIRER Editors who have graduated from the University of Liberia, with BA and BSc. Degrees in various disciplines. The five editors include Messrs. Philip N. Wesseh, Managing Editor, Jackson T. S. Seton, former News Editor, Mrs. Amelia Massa Washington, former Reporter, Josiah Haille, former Copy Editor and Josephus Moses Gray, Foreign News Editor.


Meanwhile, Mr. Gray told this paper that he decided to enroll at the nation's higher institution in pursuit of higher education, which was his dream since his successful completion of secondary education 12 years ago.


"I consider my Bachelor of Arts Degree as a major step forward in my academic sojourn", Editor Gray asserted, saying that "I am prepared and determined to press forward for another degree at the Master's programs level".