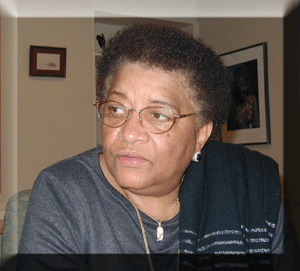 Ellen Johnson-Sirleaf
Opposition politician, Mrs. Ellen Johnson says the prevailing security condition in the country is not conducive for the holding of presidential and general elections come October 14 this year.
Responding to recent comments made by President Charles Ghankay Taylor that the pending elections will go ahead since he is under oath to do so unless the Supreme Court puts a halt to the process, Mrs. Sirleaf wondered as to why would any one press forward to hold what she termed a "fraudulent process," in the midst of the prevailing conditions.


She said it is interesting to hear that people will cast their ballots even when bullets were flying around.


Speaking Tuesday via telephone on the Catholic-run radio station, Radio Veritas, from Abidjan, Mrs. Sirleaf said contrary to comments that the constitution must be upheld, there are other provisions or parts of the very constitution that are being violated by the power-that-be.


She cited one instance as the obtaining of an exit visa, as is now being required, before one can leave the country.


Mrs. Sirleaf said such a decision by government is a total violation of the constitution and is intended to curtail the movement of citizens.


The Unity Party's Standard Bearer also reiterated her support for the deployment of an international stabilization force in the country to maintain a cease-fire among the fighting forces.


On the issue of the memorandum of understanding that was signed between her party and four other political parties recently, Mrs. Sirleaf who was runner-up to President Taylor during the 1997 special elections, promised that her party will remain committed to whatsoever the Liberian people want.


She said her party will respect the decision as it relates to whosoever that may be agreed upon by the five parties that will represent them as a presidential candidate in the elections.

---
© 2003: This article is copyrighted by The Inquirer newspaper (Monrovia, Liberia) and distributed by The Perspective (Atlanta, Georgia). All rights reserved.