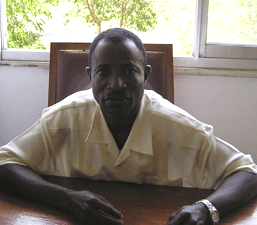 NTLA Member Samuel Wilson Chats with The Perspective at his capitol building office in Monrovia
Two Maryland County NTLA lawmakers have warned that any attempt to assign law enforcement officers in the county outside of their recommendations, will provoke a mob action by the citizens. Representatives Samuel Wilson and Adolphus Wallace sternly sounded the warning recently at the Capitol, when they hosted a press briefing on issues affecting Maryland County.
They expressed utter dismay about reports they claimed to have received about preparations by the Commissioner of Immigration and Customs and the Director of the Liberia National Police to assign individuals out of their recommendations to serve in the county. They said as Assemblymen representing their people and the county they are calling on concerned to adhere to their recommendations made earlier or else they will meet stiff resistance from citizens of the county.
Rep. Wilson and Rep. Wallace in a very disturbed and emotional mood said, "we will mobilize our people and apply violence if anyone challenges us. We will take to the streets and make the county uncomfortable for those appointees".
They further threatened that they will not allow any other tribe least to say a "krahn man to occupy any seat in the County adding, "Grand Gedeh is not the god-father for southeast counties, therefore we will not accept them to dictate to us".
"People will not continue to carry non Marylanders to our county to occupy positions while our people clap for them as though we do not have competent people in the count" the lawmakers pointed out Meanwhile, the Jet Publishing INC. last week honord Rep. Wilson for what they called his good services rendered the society.
---