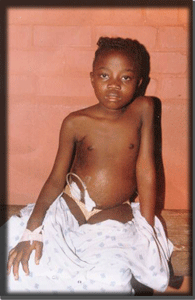 Little Victoria Sankarlay
The worried parents of little Victoria Sankarlay, who is in a very critical health condition, are appealing to philanthropists, humanitarian organizations, religious bodies, and all other individuals and organizations to come and assist their daughter get urgent medical attention abroad.
The SOS Call from the Sankarlays, who are presently internally displaced persons, is against the backdrop that Victoria, 9, is suffering from mal-functional kidneys and liver, as well as an enlarged heart.
According to medical doctors' reports, Victoria's health is deteriorating on a daily basis, and as such has been placed in the intensive care unit (ICU) at the Firestone Medical Hospital in Harbel, Margibi county.
Also, little Victoria's bone-marrow is not functioning well to produce the needed blood in her body, so as a result she is transfused with a quantity of blood after every five hours.
Just to keep their daughter alive, the distressed Sankarleys, as per description, struggle everyday to find peritoneal dialysis solution fluid, something they say, "is not easy to find in the country".
When our reporter visited the bedridden Victoria at the Firestone hospital, he observed that doctors have inserted a tube in her body to drain out fluid and other waste material, as she lacks the ability to do such on her own.
Doctors say Victoria's health can improve rapidly once she is urgently taken out of Liberia for advanced medical treatment in Ghana or elsewhere.
Contact: Patricia Sankarlay (e-mail: patricia2g2@yahoo.com, phone: 377-47-510-185).