After serving more than three months in jail because of their refusal to apologize to the National Legislature, and withdraw statement issued, which referred to the imprisonment of fellow lawyers and former president of the Liberian National Bar Association, Counselor Emmanuel Wureh, as "unconstitutional", the Liberian government freed two detained lawyers this passed Monday, December 24, 2001, according to press report.

Based on news reports, the Speaker of the Liberian House of Representatives, Hon. Nyudueh Mornokomana ordered the release of Counselors Jones, Vice President of the National Bar and Ishmael Campbell, President of the Montserrado Bar, following the intervention of President Charles Taylor "on humanitarian and reconciliation grounds".

But it should be noted, however that throughout the detention of the two men, the Liberian government action was roundly condemned by civic groups, the media and the religious community as a violation of due process of law. The Catholic Justice and Peace Commission, for example, described the overdue release of the lawyers as a "mockery of the Constitution and the due process of law". The continued incarceration of the men also received condemnation from various international organizations and Liberians in the Diaspora.

Standing their grounds on principles and the preeminent respect for the Liberian Constitution, both the National Bar Association and the detained lawyers refused to bargain their freedom based on the whims of the powers that be. Even after paying a jail fine of L$4,999.99, which is the equivalent to US$100.00, the lawyers maintained that they won't apologize in order to be set freed because they had done no wrong. They instead choose to serve their three-month sentence.

In the intervening period of their sentence, the National Bar staged a six-week boycott of the Courts, which brought near paralysis to the Judiciary Branch of government. The boycott was, however, called off based on the intervention of the Liberian Supreme Court.

Demonstrating their support for the detained lawyers and exemplary of profile in courage, the National Bar elected their colleagues early this month on white ballot, while they were stay in detention, to head the National Bar. Counselors Jones and Campbell were elected President and Vice President respectively.

In another development, President Taylor has denied being involved in the spousal abuse of his wife, the first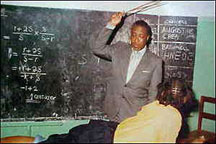 Lady, Jewel Howard Taylor, now reported to be in the United States undergoing medical treatment.

Disputing the allegation, the Ducor Broadcasting Corporation reported that President Taylor said his wife was in the US seeking medical treatment for "a minor heart problem".

In November, President Taylor flogged his 13-year old daughter, Edena, in front of her eighth grade classmates at the J. J. Roberts United Methodist School in Sinkor. He made Edena to lie flat on a table and administered ten lashes to her "backside" despite the principal's appeal for him not to beat the little girl.