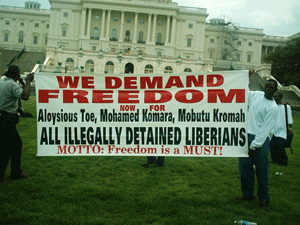 NCRM Rally
And it came to pass that early on the morning of May 8th, 2003, there arose a multitude. And there were women, men, and children of varied ages; Christians, Muslims, and others, and they represented a cross-section of Liberia. And with deep sorrow in their eyes and hearts, they had traveled from far and near to Washington, D.C., on buses and metros, air and sea, to unite their voices for democratic freedoms.
And there were many who had seen and heard the various ethnic and political distractions from the caretakers of backwardness, but they rejected them; for they refused to turn a blind eye to the plight of Aloysius Toe, Ansumana Kamara, Sheikh Sackor, Mabutu Kromah, and other illegally detained Liberians; and to the gross human rights violations being committed against their women, children, elders, and the sick.


And so they came to call for the timely release of all illegally detained Liberians, and for an end to war and human rights violations in their country. And there was much hugging and walking, assistance of the walking-stick and banner, signing of the national anthem, sorrows of the voices, and showing of freedom's signs, for the day of solidarity was at hand, and they were very united.


And so they came unto the appointed place, for some had taken the day off from work, school, missed appointments, and left their loved ones at home in the early hours. And it came to pass that they had prepared themselves to meet the sunny weather of the day, but the rain of blessing fell and soaked them. Yet they were united and determined to seek democratic freedoms.


And their voices for freedoms, with the assistance of the thunders from above, got louder and louder as the heavy rain soaked them. But as Mother Nature taketh with one hand, it giveth with the other. So the sunny weather returned, and it stayed with them for the appointed hours.


And as they gathered themselves to hear the message of freedoms, they saw that the male-dominated Liberian political theater was absent. For the politicians had privately talked the talk but could not publicly walk the walk. And it came to pass.


And there were powerful speeches from the architects of freedom about the various abuses from the Monrovia regime and the rebels; and the beauties of unity and democracy.


And so they came, ready and patriotic, frustrated and resolve, unto the appointed place, and their hearts were heavy with sorrow for their abused people and their crippled nation.


And when the appointed hours and message were done and said, they gathered themselves and belongings, embraced each other, and agreed to keep spreading the message that 'Enough is Enough.' And as they departed in separate directions, each vowed with solemnity unto himself and herself that: "Liberia is Life."