Sierra Leone to Extradite Liberian Opposition Politician to Liberia?

The Perspective
Atlanta, Georgia
November 18, 2002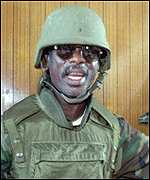 Roosevelt Johnson
Unconfirmed reports from Sierra Leone say Liberian Opposition politician Amos Lincoln was arrested and detained by the Sierra leoneon security forces recently, and is awaiting extradition to Liberia from a maximum security prison cell in Sierra Leone.
The reports did not say whether or not Amos Lincoln ran afoul of Sierra Leonean Laws or posed any security risks to the country, but said the Sierra Leonean security forces raided the home of Mr. Lincoln recently, arrested and detained him at the notorious Pedema Road maximum Security Prison in Sierra Leone.


Lincoln, a former Liberian rural development minister is said to be awaiting "forced repatriation or deportation to Liberia where he might face serious persecution" a representative of the Africa Analysis International (AAI) wrote from Sierra Leone.


The AAI representative said Lincoln was one of the most prominent Liberians along with Gen. D.Roosevelt Johnson who were attacked on September 18,1998 on Camp Johnson, but airlifted to safety in Sierra Leone where he has lived and been seeking refuge in the country ever since.


In an email message to The Perspective and other news organizations, the AAI representative said "There has been no formal reason for his (Lincoln's) sudden arrest and detention by the SL security. He is said to be treated very inhumanely; his rights are seriously violated. We write as human rights Lawyers to draw your attention to this situation against Liberians in Sierra Leone."


The AAI representative accused the Sierra Leonean authorities of arresting "opposition Liberian politicians victimized by the Liberian regime under Charles Taylor and are detaining them in maximum security prisons on Taylor's order."


The Perspective has been unable to verify claims of Sierra Leonean government collaboration with the Taylor government in Monrovia to round up opposition politicians in Sierra Leone and deport them to Liberia, nor the reasons for Lincoln's arrest. We are conducting an investigation of the matters to substantiate the facts.

---
© The Perspective

P.O. Box 450493
Atlanta, GA 31145
Website: www.theperspective.org
E-mail: editor@theperspective.org