The Lofa Tragedy
By James Kokulo Fasuekoi
The Perspective
Atlanta, Georgia
February 10, 2003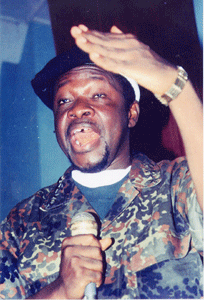 Former Warlord Alhaji Kromah

Sometime last year, I emailed a fellow journalist in Monrovia asking him to read certain stories about Liberia posted on the Website of Liberiaorbit.org. I also inquired in if there were many people reading those reports and what was their reaction?



And within an hour still seated at my computer, this reply appeared: "DO YOU KNOW WHO IS BEHIND THAT PAPER?"



I again punched few lines explaining to my colleague that it was not the matter of who is behind the website. I explained it was important for trained journalists to read "all" of the papers, including public relations outlets (like the Orbit) in order to make an informed decision or better judgment of events. He agreed! Today, I need not be told who actually backs the Orbit. My rejoinder submitted to the paper's editors on December 15, 2002 to counter misinformation contained in a fire-spitting series by Varfley Dolleh and published by the same Website, were embargoed.



But it seems that there has been some persistence pressure from the readers of the Liberianorbit regarding its connection with this former warlord who serves as its webmaster. In an editorial believed to be written by Mr. Kromah himself, the Orbit recently gave some kind of explanation. It admitted actually receiving some reasonable sum of money from the Alhaji, but argued that that would not in anyway affect its editorial judgment of news content regarding its patron, Kromah.



Now for a so-called sponsor like Kromah to infuse his blood money in such a venture and not expect a special favor or will not interfer with the paper's editorial matters is something that the staff would have to explain.



But that isn't the subject for now. What prompted this article is the unwarranted attack on me, which appeared on the Mandingo website and later on in the New Democrat supposedly authored by one Sekou Kanneh.



Mr. Kanneh in defense of his fellow tribesmen took me to task for blaming Warlord Alhaji Kromah and Varfley Dolleh (both leaders of ULIMO-K warring faction) for being responsible for the mass killings of innocent civilians, widespread looting and the burning of towns and villages in northern Liberia. The ULIMO-K which bore an Islamic undertone, emerged as the third warring faction, out of a total of seven, equally squandered the country's rich gold and diamond region and terrorized the countryside for over seven years.



While other warlords and factional members continue to evade or shy from discussing the bloody civil war which left more than 250,000 dead with over 700,000 displaced, Kromah and confidantes have been bold lately, trying to exonerate their ULIMO-K faction that is linked to atrocities committed during the Liberian civil war. Not only that! They've also been bragging about so-called ULIMO-K's heroism in the war.



Besides, Kromah has also been preaching the idea that he can make a difference where Taylor has failed. Charles Taylor is now president of Liberia and his rebel NPFL, like Kromah's ULIMO-K, equally ruined the country. Kromah had told the world prior to Liberia's 1997 presidential elections that a "Taylor presidency" would mean a repeat of the civil war. While this statement no doubt sounded true, Kromah is known to have joined the same Taylor and both carried out mass destruction of lives and properties, something that necessitated my article.



Assuming that he (Sekou Kanneh) wrote his rebuttal without the knowledge of either of the prime suspects or defendants, Kanneh did not see reason to question the silence of Kromah and Dolleh, but went on to accuse me of spreading "misinformation" and of course some "contradictions."





My rejoinder was not intended to ridicule nor vilify Kromah's ULIMO-K or Koniakas, (one of the two main groups of Mandingoes residing in both Liberia and Guinea), but rather to draw attention to the mayhem carried out by Kromah's rebels.



While many got the message loud and clear, Kanneh however bolted into baseless argument about minor things, as tribal make up, town's nomenclature among others, which seemingly might inevitably lead us into endless claims and counterclaims. He savagely evaded the main issues such as the genocide, widespread looting and burning of towns and villages, which formed the core of my article.



He also failed to address the EYE Newspaper published atrocious photos which showed disturbing images of Mandingo rebels hacking to death captured Krahns during the ULIMO's inter-tribal war in western Liberia. Avoided also by Kanneh was the outburst of a Kromah's child soldier in which the over-excited rebel informed us (journalists) how he and fellow rebels killed large group of Lorma women and children in Sukromu, near Zorzor.



Kanneh, who hailed from Barkedu, the scene of an NPFL massacre now in question, got annoyed at me for doubting casualty figures, which his town mate, Dolleh put to "more than 600." While there was no justification for the killings, my point was that Dolleh's figure was a complete exaggeration. However, Kanneh put it to "about 300", quoting the BBC's Elizabeth Blunt who in turn quoted sources in the capital. Now, the possibility is that the final figure could still be lesser than 300. What's here then to argue about?



In my article, I gave an overall picture on how all the tribes in Liberia were victimized by Taylor in his quest for power, which the Krahns were unwilling to compromise. In the process, hundreds of thousands of innocent people including Lormas, Mandingoes, Krahns, Manos, and Gios along with other tribes were murdered.



And because Dolleh, a tribalist, had all along narrowed his articles on tribal lines aimed at not only highlighting plights of Mandingoes in the war but also sought to glorify the ULIMO-K which killed our people, was why I saw it fit to set the records straight.



The bloodbath went beyond tribal lines and a number of incidents were cited in my article of how Liberians, including the Mandingoes, were subjected to inhuman treatment, and at times killed as opposed to Varfley's series, which insinuated only their Mandingo group being the victim.



Besides the mass killings in Yeala, Fassama, Nyekebozo and Gizeboiga, all in Lofa County, by ULIMO men, there are widely known massacres during the civil war including the Carter Camp (over 600 women and children were killed), Duport Road, (more than 60 were killed) and the Lutheran Church massacres in which over 600 civilians mainly from the Gio and Mano tribes were slaughtered. The Mandingo writer had never given a hint of any of these in his series.



The Lutheran Church's genocide was preceded by another mass murder, which occurred at the old United Nations compound in Sinkor, Monrovia. The late President Doe's death squad carried it out, the same perpetrators of the Lutheran Church massacre. Thank God Kanneh would acknowledge not only some of the massacres, but pointed out that Taylor's men also targeted the Krahns. ALLAHU-AKBAHLU!!



Sekou Kanneh wondered: "Why would the NPFL rebels run past Zorzor, Konia, Fissebu and Voinjama only to go to Barkedu, a comparatively smaller town in search of their perceived enemies?"



I too wondered if there were no Mandingoes living in Zorzor, Fissebu, Konia and Vionjama during this period, and what were Mandingoes still doing or waiting for in Barkedu up to the time the rebels arrived when they already knew the prevailing situation? Or is Barkedu a part of Guinea?



I cannot understand why would these Mandingo brothers continue to ring alarm daily that it's their ethnic group only up to this day, that is the subject of persecution by Taylor's regime.



I am not denying that some Mandingoes are not being harassed by the Monrovia regime for having alleged "ties" with the rebel LURD. But to say that it is happening at such a magnitude portrayed in the US by these former rebels is untrue.



As a journalist who covered the civil war from the beginning to the end and often traveled to the countryside, I can tell anyone that it's the members of Doe's Krahn tribe who are being subjected to endless persecution. We (journalists) saw much of it when we visited Grand Gedeh County in mid November 1998 to investigate the mass exodus of Krahns into the Ivory Coast due to constant harassment, intimidation and brutality meted out to these southeastern natives by Liberian security men.



As I had done previously during the funeral of murdered opposition leader, Sam Dokie, his wife, driver and bodyguard (killed by Taylor's operatives) I encouraged and led a team of reporters and photographers including Taylor's latest victim, Throble Suah, to the region despite security risk associated with the travel.



During that trip which also included a government fact-finding team, headed by Grand Gedeh Senator, Peter Fineboy, luck again went against Throble Suah as he, in one instance, fell off our vehicle about 30 feet away after it bumped into a pot hole due to the deplorable road condition.



Miraculously, he emerged unharmed, but with minor bruises.



The Ivory Coast based UNHCR's claims of Krahns fleeing across the borders were true, but one had to stakeout at dawn on routes leading to the borders to see them escaping. My cameras caught up with some and those scenes were pitiful. Women in small groups carrying bundles on their heads with babies strapped on their backs escaped under the cover of darkness. Their male relatives, mainly husbands who were prime targets had long gone ahead. I wondered why humans should suffer persecution !



The Krahns have never claimed that they have been singled out by the Taylor regime, although conditions in those areas remained almost the same.



With Varfley Dolleh's version of the Mandingo situation in the capital, backed by those provided by Kromah and now Kanneh, one is led to deduce that there is not a single Mandingo person residing in Liberia at present, which is false.



Indeed, it must be made clear that there are a sizable number of ethnic Mandingoes in Taylor's security network at present. From para-military to the national security agency (NSA) including Taylor's most feared ATU. Hard core Kromah's ULIMO-K frontlines commanders such as Varmuyan Konneh formed part of Taylor's ATU.



Is it not also a fact that President Taylor, who has added a Mandingo daughter to his wives, annually sponsored hundreds of Muslims, largely from the Mandingo tribe to Mecca?



By the way, why would a Mandingo child like smart old Haja Fatumata Taylor crank into Taylor's arms and watch her own people being persecuted by her very husband and not utter a word or breakaway? Are Dolleh, Kromah and Kanneh indicating that there is a deep division among the Mandingoes in Liberia with one group siding with Taylor? Why all this noise!



Mr. Kanneh, in his public relations campaign, questioned the reliability of Sam Kortimai, the school teacher whose accounts on ULIMO-K atrocities were published by the independent daily Inquirer in Monrovia. He argued that this instructor had link with the 'NPRAG' of rebel NPFL and as such, one could not expect him (Kortimai) to give a balanced view of the situation in the Lofa region via which he escaped to neighboring Guinea.



Again, let me inform Kanneh and others that this chemistry instructor and "NPRAG official" could not have been so silly to run into his own death like former ULIMO-K Chief Of Staff Gen. Doumuya, when he Kortimai knew well that marauding Mandingo rebels would make a nice meal of him. In short, he was not a member of the 'NPRAG' at the time he was escaping for his dear life and up to the time he sent his ten-page report to the Inquirer.



The Lofa situation is a stomach-itching and heartbreaking issue and one had to visit Lofa County, particularly Zorzor district where the Lofa Defense Force rose up, to understand the level of cruelty, destruction couple with despair and anguish suffered by residents at the hands of Kromah's heroic men.



Besides teacher Kortimai, I spent weeks traveling from village to village, town to town, filming, interviewing and recording every bit of information provided by returnee-refugees, most of whom endured hardship and also lost closed relatives to the wanton ULIMO-K murder spree.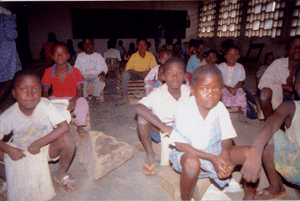 Students attending Yeala Public School are now forced to carry their own chairs to school or sit on blocks as seen in the photo

Two of the nine victims mentioned in my previous article, Papa and Monie were first cousins of mine. Until today, I had crowned it all as part of the consequences of war and had never taken it against Kromah or Dolleh. Neither had my emotions ever surfaced in my news judgment regarding their faction. Some of my published reports in which ULIMO-K scored military victories not only against rival NPFL and ULIMO-J of Roosevelt Johnson, but against the LDF dominated by members of my tribe are testimonies.



The gallant story of Lawuo Kpelleh (one of my aunts) is still being widely told by both Guineans and the refugees who during the war lived in Koryama, a typical Guinean Mandingo town near the border.



Lawuo's older son, called "PA" is said to have been arrested by ULIMO-K and Guinean soldiers in Koryama, tied elbow to elbow along with seven Lorma boys and forced in a waiting armor personnel carrier (APC) set for Yeala border. As a group of Lorma civilians demanded their release, according to the story, Lawuo who had left the refugee camp to fetch a drinking water from the nearby creek, out of curiosity went to the scene only to be told her son, "PA" was in the APC. Their crime, as it was usually the case, "suspected Taylor rebels."



This lady, instead of weeping or collapsing like what most women would do in similar situations, poured her bucket of water into the vehicle and soaked the soldiers and their prey. She hooked on the APC just before it took off, and insisted that she would die with her son. Her younger son, Pewee also mentioned in my previously story was among the 22 slaughtered at the bank of the Monuyea river separating both countries. But the timely intervention this time by an off duty Guinean soldier identified as "Barlee" of the Sousou tribe set all of them free. Interestingly, "Barlee" is reported to have a wife named Sheinai also from Yeala, the border town these boys came from.



Because these boys were being arrested under the pretense of having "ties" or "suspected Taylor rebels" which amounted to treason, no one including Guinean Lorma leaders were willing to plead for their release. Similar developments led to many innocent deaths.



It took a long time before things came to light and that's when the scary quite group of Guinean Lormas, pressured by ethnic Kpelles, moved to resist these arrests and killings.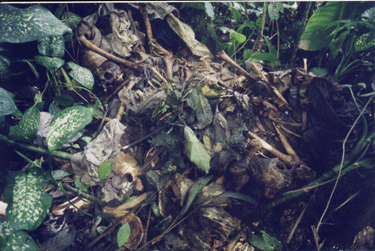 Victims of ULIMO-K: Photo shows remains excavated from a mass grave in Zorzor

In mid April of 1998 for example, some of ULIMO-K atrocities were uncovered in Zorzor. More than a dozen graves, including those in the city center where Kromah's rebels reportedly buried live humans as sacrificial lambs to apparently enable that warring faction maintain its grips on the region, were exhumed to the amazement of hundreds of panic-stricken residents. Town Chief David Harris had ordered the excavation for proper re-burial and the graves were left opened for weeks for public viewing and photographing.



Reporters who arrived in Zorzor a week after the excavation were informed by Zorzor's youths leader, identified as George that "the hands and legs of victims were tied by their captors before being buried alive in shallow tiny graves," adding "we parked some of the remains in wheelbarrows and large bags and paraded around town amid bewilderment and jubilation on Friday before you came." "Some of the captives were laid face up while others were made to sit or stand when they were buried," George told reporters. He narrated, "they all had charms tied to their bodies."



It is said that the exercise came about as a result of series of dreams had by Zoes and church leaders, all corroborating and sometimes with the appearance of a "strange being" asking the people to remove those buried alive else, there would be no peace in the region.



These dreams, accordingly, were later supported by accounts given by some of those products from Mandingo-Lorma inter-tribal marriages, some of whom lived in Yeala, Zorzor, Fissebu and other places at the time of the ordeal. It is said to have taken place in daylight with residents being forced indoor.



The situation sparked off ethnic tension between the Lormas and Mandingoes following the discovery with both sides avoiding each other. (See the April 28 and 29, 1998, editions of both independent HERITAGE and DAILY TIMES Newspapers of Liberia.)



It's like a tale that never ends and space and time cannot allow me to cite some of those chilling stories told by late mother Kebesua Boiyea and late Uncle Albert Cooper Zaza, former Yeala Public School Principal, both of whom crossed the path of these Mandingo rebels.



Evidence of Guinean Army elements involvement with ULIMO-K in the civil war is just overwhelming and glaring to the extend that one does not have to go too far to see them along the borders in Yeala. Huge unexploded objects remained either buried in the earth and stuck on trees, while empty shells of heavy weapons littered along farm roads and villages.



Ethnic Lormas in the Yeala area have transformed some of the shells into farming tools and cups for drinking their palm wine and water, as you will see in photos.



Some LDF rebels who fought in the Lofa Defense Force accused the Guinean soldiers of using these weapons as a back up for their Mandingo cousins who were fighting rival LDF in the region. Some of the explosives dropped kilometers away from the borders into Liberia.



Also, as part of evidence of collaboration between Kromah's rebels and their Mandingo-speaking cousins in the Guinean Army, the Guinean national flag bearing red, yellow and green colors was hoisted across the bank of the Monuyea river (on the Liberian side). The flag, all along had remained at the Guinean border check point about four kilometers away from the border since that country gained independence from France. It was moved across the border during ULIMO-K occupation.





A joint security team headed by Sykajibo Kortor of Liberia's National Defense, which toured the region before my visit, confirmed the position of the flag in the presence of defense press officer following my inquiry. This further strengthened my story, published, May 1998 by the independent New Democrat with relevant photos. What more evidence do we need to convince Kanneh of Guineans' involvement in the civil war? Wasn't this another ploy by these rebels claiming loyalty to Liberia, to have our sister country annexed parts of Liberia?



Dolleh was right when he pointed out that the NPFL didn't carry paradise to Lofa County. Yes, NPFL didn't indeed! It too, caused havoc in the region! But they acted smart and save some of our treasured institutions such as schools, markets, secret societies and hospitals including the Curran Lutheran hospital in Zorzor where they reportedly treated their wounded.



But Kromah's men, who even forgot they had wounds to treat, did the opposite. They went in with vengeance set on their minds, which can be attributed to some of the reasons clearly indicated in Dolleh's series.



They blamed Lofans (after the Mandingoes had fled to Guinea) for giving a red carpet welcome to Taylor's rebels who killed Mandingoes and burned their properties. At the sometime, Lofa allowed the NPFL to establish military bases all over the county where "thousands of citizens" were recruited to fight Taylor's war. Moreso, the Lofa Defense Force rose up to resist ULIMO-K; all of these were factors that brought revenge with the 'Lormas' who formed LDF paying the highest price.



But tell me, if the ULIMO-K treated Lofans nicely, how come Alhaji Kromah was badly defeated by Taylor in his own county during the 1997 presidential elections? Do you (Kanneh) know that thousands of Liberian refugees marched across the border from Guinea, including the sick and crippled to cast their votes against Kromah due to the sufferings brought to them by your men? Or have you ever asked why are all the Lofans fleeing to Monrovia in the wake of intense battle between government troops and LURD rebels viewed by many as another ULIMO-K?



He had the guts to refer to me as a "hard core tribalist" fanning hatred between two tribes. This leads me to wonder as to how he would describe those whom he is defending, especially Alhaji Kromah, the man who, not only appointed Mandingoes, but largely members of his immediate family to lucrative positions on their faction's ticket in Liberia's transitional government?



Lassana Kromah, (elder brother) Finance Minister; Sekou Kromah, (brother) Director, Liberia Telecommunications; A.B. Kromah, (brother) replaces Defense Chief of Staff, Gen. Doumuya, (cousin) killed in a street battle with rival Krahn; Morris M. Dukuly, (cousin) appointed speaker of parliament and the list goes on and on.



This is not to say that some of those appointed were not qualified for their respective posts. In fact, Mr. Morris Dukuly and A.B. Kromah formed part of the best brains in that government but the tribal line it centered around only went further to picture what a "Kormah led government" would entail. In any case, Alhaji Kromah has not only proven to be a tribalist, but best at nepotism!



Many Liberians now wonder why is it that the Monrovia regime has now become the most "wicked devil" in town in the eyes of the Alhaji, when the very Kromah and Taylor joined forces to eliminate hundreds of rival Krahns and perceived enemies which resulted into street battles, thus causing many deaths from bullets and starvation. The mission to capture Krahn rebel leader, Johnson failed.





Interestingly, today, the same Kromah now in exile, can visit Liberian refugees in Ghana and promise to alleviate their sufferings by enforcing peace in our motherland to allow their return, is beyond my understanding. This is because the bulk of those refugees were forced to escape the capital during the Kromah-Taylor led April 6, war.



As I close on this note, may I divert a bit and ask when will the "ULIMO high command" begin to repatriate hundreds of Lofa orphans ferried into Guinea and sold into slavery by these Mandingo rebels? The Lormas are worried and concerned about the fate of these kids, most of them between 5-14, whose parents either were killed or lost track of them in the war. This is a serious matter, because there was a meeting held in Monrovia regarding this issue which I attended.

---
About the author: James Fasuekoi is a journalist and cultural artist. Prior to the war, he worked for most of Liberia's independent leading dailies as reporter-photographer. Before joining the Associated Press in 1993, Fasuekoi served as photo editor for The Inquirer in Monrovia. He is known for covering dangerous press assignments such as Gen. Charles Julu's failed coup of 1994 and the dreadful Kamajor bush war in Sierra Leone. Some of his works have been published in magazines and books around the world.

---