A Tribute To A "Culture Virtuoso" Gbessay Kiazolu

By James Kokulo Fasuekoi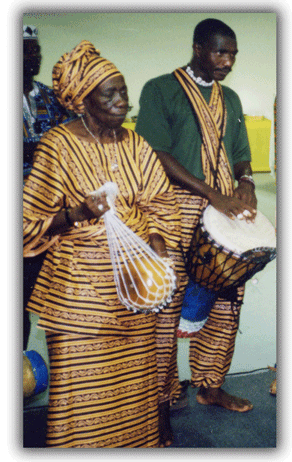 Ma Gbessay with her sasa
One of Liberia's oldest female performing artists, the aging Gbessay Kiazolu now winding up into her 90s, was honored last December 25th, Christmas day at the historic Providence Island in Monrovia by the newly formed Anyekon Artists group.
Anyekon (meaning, we on it) comprises popular pre-war dramatic groups such as Malawala Balawala, Flomo Theatre and Aurora Productions of the USA. It is led by Mr. Kekura M. Kamara, a comedian and former television newscaster.


The colorful ceremony was tied to the launching of an endowment fund drive geared towards seeking the welfare of local performing artists. "Ma Gbessay" as she is affectionately called, happens to be the first beneficiary with the construction of a residential home underway to replace her first house burnt by rebels during the country's seven year civil war. Thanks to God for the farsightedness of a Liberian Journalist/Actor Kekura Kamara.


This aging top cultural performing artist described by reporters attending the occasion as "Liberian cultural godmother", is the first known legend to receive such honors at an elaborate ceremony in the capital during our time.


"She deserves this plus many more considering the enormous contributions she has made in promoting and highlighting Liberia's cultural image abroad up to present", said an artist about "Ma Gbessay" who was, presented a beautiful African gown as a sign of respect and appreciation for her work.


Deputy Director for the Endowment Fund, Francois Junius perhaps put it right when he said, "we don't want to give this true mother of Liberian culture an empty praise at her funeral. Let her smell her flowers while she is still with us".


Cultural godmother "Ma Gbessay" has come a long way in African cultural show business. From a village in western Liberia's Cape Mount county to the national cultural center of Kendeja which lies at the mouth of the Atlantic Ocean. It is from here that Gbessay, for more than half a century led the Liberian National Cultural Troupe to win countless medals at festivals around the world.


Her honoring comes at this time in a country where many appeared to have lost their national cultural identities-a period where culture is at its lowest ebb with the culture and tourism wing of the Ministry of Information (MICAT) virtually none existence.

This apparently has opened avenues for those bent on prostitutionalizing our traditional cultural heritage for monetary gains in the name of promoting our culture.


Regrettably, our honoree is leaving the stage at a time when MICAT which supposed to be promoting arts, culture and tourism as well, is bulked down to countering "negative" stories about the Taylor led government. If it's not a counterclaim to rebel LURD statements, it has got to be a clarification concerning ex-combatants slipping across the border to fight or a reporter being detained or beaten.


This is not the Liberia honoree "Ma Gbessay" long dreamed about or envisioned where culture played a vital role in the life of the people.


Julie Endee-Tarpeh

And for people who think that just wearing a grass-skirt, have the face chalked and twist the body - is culture, they are mistaking. Gbessay believes culture and traditions aren't limited to stage performance. It goes beyond that she says. According to her, culture and traditions must match our everyday lives which include language, costumes and behavior.



She agrees that a culture being misunderstood, misdirected and not properly portrayed could ruin a country's image. Born onto a wealthy traditional chief, Oldman Kiazolu who initially viewed modern education as a weapon aimed at destroying their heritage, Gbessay's idea of culture encompassed mere stage performance. Her entire life is deeply tied to the traditions of a highly cultured profiled tribe of western Liberia, the Dei.


Liberia Cry Peace

From native traditional handshake to greetings, bowing or kneeling half-way to prove the depth of her appreciation for others. Her unique cultural attires seem to be intertwined with a century old fashion long practiced by people of her Dei tribe.



At the National Cultural Center where she served as matron and stage director Gbessay's job wasn't limited to settling the usual occasional disputes among young girls. It began from traditional mid-wifely to admitting girls into bush schools, aimed at preparing them for womanhood.



During the 80s when Liberian cultural life boomed through the tireless efforts of then Cultural and Tourism Bureau Director, Amb. Jallah K. K. Kamara, Liberians saw a well organized and disciplined national troupe, all to the credits of "Ma Gbessay."



When it comes to performing arts, Gbessay is a one woman riot squad. With her wealth of endless talents, she is capable of holding an audience attention for hours with just her "sasa" and melodious voice all matching along with a hundred more steps.



In the middle of the civil war, when this writer first watched her performed with the national troupe, Gbessay stirred the audience as she skillfully led a group of village girls into folk songs and dances drawn mainly from her native Dei tribe of western Liberia:.. Her aging feature couple with her fascinating movements on stage made her a point of focus for camera crews. Gbessay is today one of Liberia's widely traveled artists.



"Only boys was allowed to go to school and we the women had to choose between becoming house wife and culture.... for me, I decided to go into culture," she told this writer few years ago in an interview.


Kendeja

This cultural godmother who went to the cultural center at a tender age some fifty years back caught hard time remembering many of the countries she visited with the group. It covered nearly four administrations beginning with the Tubman's era to the present Taylor administration when she formed part of the Julie Endee-Tarpeh led "Liberia Cry For Peace" which got stranded in the U.S. in 1998 at the end of an image building tour. Thank God for Liberia Cultural Ambassador Julie Endee-Tarpeh whose personal initiatives despite the odds, successfully led a group of Liberian artists to America, Libya and a half dozen West African countries where they bartered to replace the war-time image of this negro republic.



But there are just some countries Gbessay won't ever forget due to the stiff dance competition her troupe was locked in with cultural musical groups in those countries. She named such countries as Nigeria, Kenya, Morocco, Ghana, Algeria, Ethiopia, Somalia and the former Zaire.



There is not a single individual who has gone through the gates of Kendeja that and had not benefited from the wisdom of this "culture vulture." Kendeja cultural pioneers including great folks singers like Fatu Gayflor, "Nimba Burr", Tarlor Quinwonkpa who lived in the U.S. plus Zia Tete in Abidjan, Ivory Coast, all have - a story to tell about "Ma Gbessay."



"Ma Gbessay" Kiazolu in all her life has not only proven to be a cultural genius or legend, but a cultural myth in the business of promoting and preserving her rich cultural heritage. She indeed deserves the honor!

---