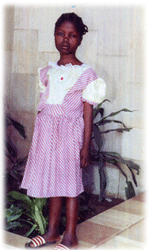 Mama Mulbah
The 10-year-old Liberian is at the mercy of well-wishers and the family is hoping that a benevolent individual or organization can come in to rescue her and help her survive. Mama Mulbah, doctors say, has an enlarged heart, and she needs help abroad, preferably the United States.

Though she is ten years old, she now weighs about 15 pounds and is about three and half feet tall. Years of war and instability has compounded Mama Mulbah's problem, first diagnosed in 2002 at the Phoebe Lutheran Hospital, in Bong County, Liberia from Totota, where she previously lived.

When rebels and government soldiers increased their on and off attacks in Lofa County, Mama Mulbah was rushed to Monrovia where doctors at the JFK Hospital carried out further tests, confirming that she needed further assistance abroad.

However, the recent war in Monrovia when rebels of the Liberia United for Democracy and Reconciliation, LURD, attacked the city, rendered all hopes of finding help for Mama impossible.

Mama Mulbah's situation has become worse. The drug, digoxin is being administered to her by doctors in Monrovia to strengthen her heart, to "keep blood to all part of her body," doctors said.

According to aunt Yarmah Darsee, Mama finds it difficult to breathe at night and would always collapse when playing with friends.

She is been taking to the vandalized Redemption Hospital and Cooper's Clinic, all in the war-ravaged city of Monrovia without the needed help due to lack of essential drugs and personnel.

"Hospital and clinics staff have advised us that Mama needs outside help," said aunt Yarmah Darsee, her present guardian. She said X-Rays conducted last year and another this year confirmed her fears that unless Mama Mulbah receives urgent help abroad, her chances of surviving in the next few months is slim. Though a practicing nurse, Darsee has found her niece's situation disheartening and therefore is appealing to organizations and individuals in the United States and elsewhere to come to her rescue.

Mama presently suffers from a swollen face, legs and hands and she complains of severe pain in her body.

Yarmah Darsee can be reached at: 011-37747-522749