An Appeal To The Liberians United For Reconciliation And Democracy (LURD)
(MDCL's Statement)

The Perspective
Atlanta, Georgia
June 4, 2002


The Movement for Democratic Change in Liberia welcomes the statement by the Liberians United for Reconciliation and Democracy, (LURD), regarding its readiness and willingness to seek peace in our beloved Liberia following calls from Liberians, ECOWAS, The United Nations and other peace-loving people around the world.


It is written in The Book of Proverbs 22:1: "A good name is rather to be chosen than great riches, and loving favor rather than silver and gold."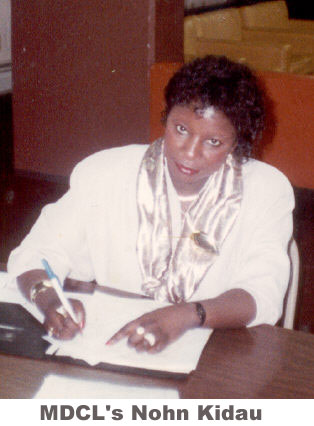 The name, Liberians United for Reconciliation and Democracy, is being linked to allegations of human rights abuses in areas under its control. The allegations of abuse include execution of war prisoners, torture of civilians, collaborating with government forces, looting, forced dispersion of civilians, among others. Similar allegations have also been linked to the forces of Charles Taylor's rebel National Patriotic Front of Liberia during the civil wars of the 1990's, as well as his current government forces. Liberians ignored the evidence against Taylor and his NPFL and "voted" him into the presidency. The folly of that election result turned out to be the bane of Liberia's existence, the consequences from which we are still trying to extricate ourselves.


The emergence of LURD on the political scene was supposedly to oppose the abuses committed by the NPP government. Now, Liberians are beginning to wonder as to whether there is any difference between LURD and NPFL/NPP forces. They both are bent on looting, uprooting Liberians from their homes, causing them to become internally displaced people, as well as forcing them into refugee camps in other countries. Is this a repeat of the 1990's? Innocent Liberians, non-combatants, are being killed, and maimed and all they get in the form of an explanation from LURD are press releases that raise more questions than provide answers.


The vast majority of Liberians do not know, who or what LURD is, who are its leaders or, for that matter, what are their plans if they succeed in unseating Mr. Taylor. There have been several outbursts from members of LURD's leadership as to their intentions to install themselves as rulers over the Liberian people for indefinite periods. What guarantees do Liberians have that this organization will not turn out in the same manner as Mr. Taylor.


If the allegations, regarding abuses, are true, there exist too many similarities between LURD and the erstwhile NPFL, and the underlying fear is that the similarities will carryover into the leadership of Liberia should LURD succeed, as in the case of the NPFL, with Liberians again becoming the victims.


The Movement for Democratic Change in Liberia hereby calls upon the leadership of LURD to immediately cause a cessation of hostilities, even to the extent of declaring a unilateral ceasefire, and enter into a serious dialogue with the government with the view to finding a lasting, permanent solution to the conflict. The MDCL acknowledges LURD's statement of intention to "reduce and, or halt our military activities in the country, with immediate effect." We urge a strong commitment to this promise.


We further acknowledge LURD's gesture of releasing from further detention Father Gary Jenkins, but without the sixty blind Liberians under his supervision. The detention of Father Jenkins and those sixty blind people is tantamount to kidnapping and abduction. Father Jenkins's only concern was the well being of blind Liberians without regard to his own personal safety. What will happen to the blind individuals that were in his care? Will they remain in LURD's territory? Are they being held against their will or will they be released a later date? These are legitimate questions; hence they must be addressed immediately.


MDCL further calls upon LURD to live up to the tenets of its name - united, for reconciliation and democracy-. We eschew the idea that lasting peace in Liberia could ever be achieved through any means other than the ballot box; certainly not through violence, because violence breeds more violence.


Unity, Democracy and reconciliation need to become the hallmark of existence for every Liberian, including LURD, because it's only when we are able to lay aside our differences and work together as a people will we be able to move our beloved patrimony, Liberia, forward. The MDCL acknowledges the difficulties, if not impossibilities of trying to work with the Taylor Government, however we must draw the line somewhere when it comes to violence. Historically, the use of war as an instrument of change has been a valid recourse after all else has failed. Notwithstanding this fact, Liberians have had their wars, where in excess of 250,000 lost their lives. This was about eight percent of our population, a very disproportionate number, considering the size of our population and a very high price to pay for few individuals to live luxuriously while the rest live in abject poverty.


Finally, we would like to make it emphatically clear that we do not condone the violence perpetrated against our people by any group, rebel or government, for whatever reasons. Liberians are suffering a severe form of war fatigue and certainly need to get back to the business of living, your role in bringing about some relief for our people could be rewarded if LURD decides to stop prosecuting this war and try their hand instead at the ballot box. Remember all wars, no matter how long they last, must end at the negotiating table. It is time to negotiate in the interest of Liberia, not LURD.


It is written that, "Where there is no vision the people perish, but he that keep the law is made happy." It is time for LURD to demonstrate its vision and commitment to Liberia and its people by doing what is right for Liberia.


May Almighty God grant us His peace and save our country, Liberia.


Issued this 4th day of June, 2002, in the city of Minneapolis.


Signed:

Nohn R. Kidau (Mrs.)
Chair
Movement for Democratic Change in Liberia
One West Lake Street
Suite 402, Minneapolis, MN 55408

---
© The Perspective

P.O. Box 450493
Atlanta, GA 31145
Website: www.theperspective.org
E-mail: editor@theperspective.org