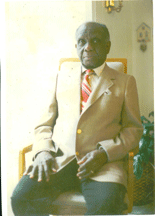 Hon. Moses P. Harris
The Grand Gedeh Association in the Americas, Inc. announces, with profound regret and sadness, the home-going of Honorable Moses P. Harris, Sr. Honorable Harris passed away on Saturday, January 11, 2003 in Liberia. His mortal remains will be laid to rest in Monrovia on Saturday, February1, 2003.
Honorable Harris was married to Mrs. Hannah Boayue Harris, who predeceased him. He is survived by nineteen children, including Mr. Moses P. Harris, Jr., former Managing Director of the National Port Authority, a host of grand and great children, as well as several foster children and other relatives.


Honorable Harris, born on September 13, 1913, was an educator, a lawyer, an accountant and a successful politician. When he graduated from the Booker Washington Institute (BWI) in 1930, he became the first Liberian to graduate from that institution. In 1941, he obtained a degree in Liberal Arts from Liberia College, now the University of Liberia.


A devoted Christian by faith and a Methodist by denomination, Honorable Moses P. Harris, Sr. lived a life committed to the service of humanity. He was Principal of the Joseph Jenkins Roberts Foundation School for many years, a lawyer with the prestigious Richard A. Henry Law Firm, Inspector of Accounts in the then Department of Treasury, now Ministry of Finance, and Controller in the Bureau of Planning, now Ministry of Planning & Economic Affairs.


With this vast experience, Honorable Harris was ready to serve his people when, on July 26, 1964, he was appointed by the late President William V.S. Tubman as the first Superintendent of the newly created county of Grand Gedeh. Upon his appointment, Honorable Harris immediately set out to transform the new county into a strong and competitive economic region. His term of service saw increased activities in agriculture, mining, and the timber industry. The county capital, Zwedru, went from being a little rural town to becoming a modern city. It was during his administration, in 1968, that Zwedru was electrified and the city's famous public building, the Tubman Palace, was built. His administration also saw the rapid opening-up of the county. In short, Honorable Moses P. Harris, Sr. successfully led Grand Gedeh's march to proudly taking her place amongst the other regions of the country as an equal partner.


Honorable Moses P. Harris, Sr. successfully led the people of Grand Gedeh County for more than seven years as superintendent before being elected to the National Legislature as a member of the House of Representative from Grand Gedeh County. In the House, where he ably represented the people of the county, Honorable Harris served as Second Deputy Speaker, a position he held until 1980. He later served as Advisor on International Affairs to the late President Samuel K. Doe.


The National Administration and Board of Directors of the Grand Gedeh Association in the Americas, Inc., as well as the entire Grand Gedeh community in the Americas, extend deepest condolences to Mr. Moses P. Harris, Jr. and the entire Harris family for this irreplaceable loss. May the soul of this great son of Grand Gedeh County and the souls of all the faithful departed rest in perfect peace and light perpetual shine on them.

---