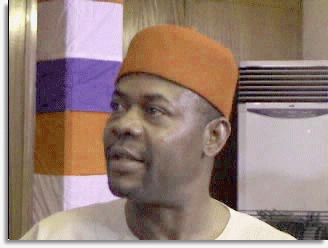 Cyril Allen, Chairman of Taylor's NPP Party
According to news dispatch from Monrovia, the ruling National Patriotic Party has been engaged in the process of parceling out national contracts to various companies at the expense of the Liberian public. One of such lucrative deals was uncovered and published by
The Independent
newspaper in its December 31, 2002 edition.
In a letter dated May 20, 1999, the bombastic and controversial chairman Cyril A. Allen, told Mr. Brimah Kamara, Manager of BASSCO, a logging concern, the following:


"As a result of our in depth analysis of your company and its ability to perform, the National Patriotic Party is pleased to nominate you as the sole company authorized to present our interest and to engage in stevedoring activities at the port of Greenville, Sinoe County.


"This nomination takes effect as of June 1, 1999 and will remain valid through May 31, 2004. We are confident that your procedures and the general conduct of your business will reflect the goals of the Ruling Party in that area of the country. Your proposal to provide the Party with $0.50 per cubic meter of all logs shipped is acceptable and amounts due are expected by the 15th of each succeeding month."


This is another example of the blatant corruption and conversion of national resources to personal - in this case - to group's use. It's fraudulent; it's against the law and should not be allowed to continue.


As one would expect, Mr. Allen denied ever writing such a letter.


In another development, the Taiwanese government just gave Liberia some 200, 000 bags of rice. According to reliable sources at the National Port Authority (NPA), the consignment of rice has been turned over George Haddad, the Lebanese merchant with exclusive rice importation rights, who in turn has taken the rice to his Bridgeway warehouse for rebagging. Sources say market women are standing by to buy the rice. The rice is not being sent to displaced people camps.


Also a well-placed source informed The Perspective that the Liberian government has instructed Mr. Haddad to bring in one million bags of rice for campaign purposes.


Consumed by personal greed, and the need to inflict pain and suffering to his critics, the regime has not been able to address the woeful economic plight of Liberia. Unable to run on any meaningful achievements of past five years, the dictatorship is poised to use rice and other basic essentials to entice the population.


This bag of rice - for - vote will be a powerful tool as the Liberian people are desperate and dependent on handouts. Beside this gratuity, fraud and violence, the Taylor regime, by any reasonable measure, could not successfully compete in a free and fair election. How pathetic the ruffian in Monrovia takes Liberians for fools!