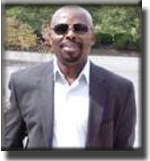 Bartholomew Doe Toe Sr.
Oct. 29, 1962
to
Jan. 14, 2015
Dr. Bartholomew Doe Toe Sr. First came to the United States from Liberia in Sept. 1993, when his brother Francis Wreh sent for him to improve his standard of living. Dr. Toe left his pregnant wife, Agnes Toe (pregnant with Mahwoti Toe) and two toddlers and a 6 year old back in Liberia. Those toddlers were Liana, and Bartholomew Toe Jr. and six year old Dekonti Toe. Liana was 2 years old and Bartholomew Toe Jr. was almost a year old. Dr. Toe began working odd jobs to support his family back home, while also trying to support himself in the states as well. Working those jobs made way for him to be able to send for his wife Agnes in Aug. 31 2001.
He later sent for his three children that same year in December 19. Agnes and Bartholomew Toe have been married since December 19 1992. Dr. Toe, decided that he didn't want to work odd jobs anymore, his passion was teaching as he was a teacher at the University of Liberia prior to coming to America. He got his Bachelor's Degree at the University of North Carolina at Greensboro. He later went for his substitution license, which allows him to substitute at various Guilford County Schools. Bartholomew was still trying to decide what he wanted to do for a career and being a substitute teacher was not it, so he decided to get his Masters Degree in African Studies at North Carolina Central University. Dr. Toe, decided that he want to go all the way with his history degree and most importantly to teach at the University level so he got his Doctoral Degree in African American/African studies at Howard University where in made the honor roll continuously throughout. He also served as an instructor there, all his students love and praise him. One student said, "I learned a lot in Professor Toe's Introduction to the Black Diaspora II Class. His lectures are very enlightening and they are also philosophical. I learned a lot, not only about Black Diaspora, but about life in general. As long as you come to every class, participate in class discussions, and do the reading thoroughly you will make an A."
Dr. Toe was a loving and caring father and husband, who would do anything for his family. His family will forever miss and love him. Bartholomew Toe Sr. left behind his wife and 5 children; Liana, Bartholomew, and Mahwoti who live in High Point, NC and Dekonti, and Rose Toe who are still in Liberia.
The Family will receive friends from 6:00 PM to 8:00 PM Friday January 23, 2015 at Cumby Family Funeral Service on Eastchester Drive. A mass of Christian Burial at 12:00 noon on Saturday January 24, 2015 at Immaculate Heart of Mary Church on Johnson Street in High Point with Father Vincent E. Smith O.S.F.S. celebrating Mass followed by entombment in Floral Gardens Memorial Park Mausoleum.
---
© 2015 by T
he Perspective
E-mail: editor@theperspective.org
To Submit article for publication, go to the following URL: http://www.theperspective.org/submittingarticles.html