Before the 1997 presidential and general elections, Mr. Charles Taylor and his faithful servants had given the impression that he was the "savior" of Liberia. According to them, voting for Taylor meant that Liberia would be turned to a paradise with American dollars in the pockets of every Liberian. They further told Liberian children that education for them would be free with computers made available to each pupil, while hot meal would be served in all schools. At the national level, Monrovia was to be electrified moment after the inauguration.
Here we are today in the year 2003 with nothing the NPP government has to show besides continuous human rights violations coupled with killings by state security with impunity. Salary payment to civil servants, the minimum obligation that any responsible government is to undertake is nothing but a dream in Taylor's Liberia. It is now fashionable for civil servants to take pay twice a year. The first is in July shortly before independence day. The second one comes just before Christmas. In all the two instances, only two months salary are given to each civil servant in a year.


The year 2003 is according to our constitution the year for electing president, senators, representatives, mayors, and chiefs. Mr. Taylor is convinced that with his unfulfilled promises to the Liberian people, he does not stand any chance of winning the presidency if and only if the playing field is level. By that we mean if he is not allowed to have his ruthless militia in charge of security. For the past five years our people have seen through the lies of the Taylor regime. They (the regime) continue to tell us that Taylor's hands and feet are tied by "powerful countries", so he is unable to provide essential services for the people of Liberia. What we do know for sure is that with his hands and feet allegedly tied, he never ceases to buy expensive cars for himself and his cronies. Yes, his hands and feet are tied, but they are building expensive houses daily. His hands are tied but he continues to embezzle all the Taiwanese money intended for the renovation of the JFK Hospital, the restoration of electricity, as well as revenue from the OTC and the Maritime funds.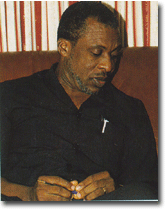 Blamo Nelson
Mr. Blamo Nelson is now carrying on a lone campaign for Liberians to give Mr. Taylor another 6 years as president in the Executive Mansion "to make up" for what he deliberately failed to do in his first 6 years. But Mr. Blamo Nelson is getting nowhere with his attempt at deceiving the Liberian people who have learned a bitter lesson in the past years of Taylor's mis-rule. He and some of his colleagues in the United People's Party are prepared to give the party over to the NPP for few pieces of diamonds. Baccus Matthews feels very comfortable working as a public relation officer for a company that is treating his own people of Grand Bassa county as virtual slaves.
The key argument of Mr. Nelson is that the opposition party should try to win seats in the national legislature. In his narrow thinking, Taylor would be contained as president if there were a "strong" legislature. Is Nelson really serious? In the first place, Taylor does not believe in anything call the rule of law. There is no way that he can submit

himself to such a body. Let Blamo Nelson ask Cllr. Charles W. Brumskine about one's independence as a law maker in a Taylor run government. Even if all the big-shots in Liberia were elected senators and representatives with Taylor as president, things will still be as they have been over the past five years plus.


Since Mr. Taylor claims that his hands and feet are tied, he must not contest the presidency because if he became president for the second time, his entire body will be tied. Does he want for all the people of Liberia to die since he will always be tied for his reckless action that has no end?


Taylor and his group have now turn to the United States of America as a country "interfering" in their internal affairs. In that light, there is a campaign organized by the NPP and its appendages such as the Consortium of Interest and Pressure Groups, Patriotic Consciousness Association (PACA) Student Academic Challengers (SAC) along with lunatic, Sando Johnson who is asking the American to pack and leave Liberia so that the country may "exercise its sovereignty". They are wasting their time because ordinary Liberians know better than to demonstrate against American policies towards Liberia because such policies are in the interest of all Liberians.


With elections pending for this year and no preparation made by the government, Mr. Taylor having run out of his bag full of lies, is making every frantic effort to create some pandemonium in the country so that he will illegally remain in power well beyond his tenure. Good old Taylor, the lies before 1997 can no longer hold this time. It is better for you to move from the back of the Liberian people so that they may make progress in their lives.