ATU Forces
Several human rights activists and supporters of human rights defenders have been arrested in Monrovia today. Sources from Monrovia said members of the Liberia Coalition of Human Rights Defenders who are known to be arrested include Cllr. Dempster Browne, Chairman of the Coalition, Blamoh Sieh and the wife of Aloysius Toe. Mr.Toe was not present when security officers stormed his home. Also, there is no record on the number of supporters of the Human Rights Defenders arrested since the raid started at dawn today.
The arrest is associated with the week of solidarity declared by the Liberia Coalition of Human Rights Defenders.


The Liberia Coalition of Human Rights, comprising nineteen human rights organizations, declared a week of solidarity for Journalist Hassan Bility, Sheikh K. M. Sackor of the Humanist Watch Liberia and others who have been in detention since the 24th of June 2002. The solidarity week started on Friday, October 25, 200, with a statement and was scheduled to end on November 1, 2002.


As part of its week of activities, a prayer service was held on Sunday at the St. Theresa Convent Campus on Randall Street where Archbishop Michael Francis, Sheikh Kafuma Konneh of Liberia's Interfaith Mediation Council and a cream of eminent persons including politicians present expressed solidarity and support for the release of Hassan Bility and the countless number of persons held by government without warrant and or charge.


Several persons who attended the service said various speakers called on the government to demonstrate its expressed commitments to the rule of law and human rights by releasing Hassan Bility and others, bring an end to the gross human rights violations as well as focus on the appalling prison conditions and the cruel and inhumane treatment meted out to detainees in Liberian prison.


Today's activity as outlined by the coalition was a peaceful solidarity march where a petition would have been presented to President Charles Taylor. However at dawn today, sources said, security forces were already roaming the streets and searching for organizers and supporters of the Solidarity Week.


It was during this search for Organizers and supporters of the "Week of Solidarity" that Cllr Dempster Browne, Chairman of the Coalition, Blamoh Sieh, Member of the Coalition and the wife of Aloysius Toe were taken away.


Up to press time the March had not started and no one had assembled to begin the Solidarity March. The streets are also said to be solemnly quiet except for government vehicles filled with security officers and various artillery weapons moving at top speed.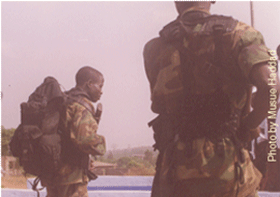 The Dreaded ATU Forces
Sources from Monrovia said helicopters have been hovering over Monrovia searching for persons government said are against the regime, "inciting the people against it," and those trying to create "chaos". Scores of members of President Taylor's Anti-Terrorist Security unit are parading the streets in pairs of six with large machine guns. Other government security forces are also parading the streets in combat forms.
Yesterday, president Charles Taylor in an impromptu late evening press conference, according to news reports, warned that no one dared get on the street for any "solidarity".


In his words, "If your Ma (mother) born you and you don't respect yourself, let me (Taylor) catch you on the street for solidarity march."


Efforts to contact Aloysius Toe, Francis Johnson-Morris and other members of the Liberia Coalition of Human Rights Defenders proved futile. Information is that they are in hiding.