The Candidates: Under the Microscope of the Liberian Youth Leadership Forum (LYLF)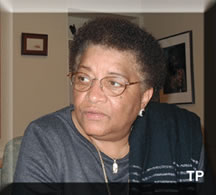 Ellen Johnson-Sirleaf
Ellen Johnson-Sirleaf
Considered to be Liberia's foremost opposition figure, Mrs. Ellen Johnson-Sirleaf might have seemed to be the best choice for the Transitional leadership. Yet, fears and suspicions among Liberian politicos for her strong appetite for genuine reforms explains why she was dissuaded earlier to abandon her towering ambition in a basically masculine struggle. Nevertheless, Mrs Sirleaf still possesses the basic qualities for good leadership that are conspicuously lacking in many Liberian politicians. She is one of the few strong voices in the vanguard of the struggle for genuine transformations in Liberia, and could therefore be the one to help restore all the years that the locusts have eaten. Since the problems in Liberia are linked to poor management and the urgent need for redistributing the country's vast wealth among its fairly manageable population, many observers believe that Mrs. Sirleaf could help set the pace for such leap.

Gyude Bryant
Effective crisis management requires caution and tactfulness. On the periphery, Gyude Bryant possesses both qualities and may therefore seem to be the alternative name. Unfortunately, his poor human relations and Cllr. Charles Brumskine's growing influence on him undermine his chances. In conflict situations such as Liberia, where a leader is required to be constructively decisive and independent in thoughts and actions, Mr. Bryant, who owes much of what he has accumulated over the years to Libya, cannot be a compromise name.

Rudolph Sherman
The most monumental error that any people can make is when they fail to understand that genuine transformations are only possible if those who undermine positive change are kept as far away from decision-making as necessary. If this holds, then the man Rudolph Sherman, whose name is synonymous to corruption and hypocrisy, would be the slightest to consider. While this Survey was being compiled, Mr.Sherman was in a tight telephone conversation with his mentor, Mr. Charles McArthur Taylor. Sherman has been the brain behind the establishment of the nine (9) surrogate political parties that were brought to Accra primarily to convey what Mr. Taylor sneezes into their nostrils. If in spite of this Liberians still decide to choose Rudolph Sherman to head the Transitional Government (TG), then the fallacy that they voted for peace in 1997 instead of for Taylor would be exposed for the world to see.
---