Tipoteh Targeted by Taylor's Security for Elimination?
The Perspective
April 7, 2001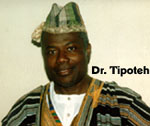 In an interview with BBC on Friday, a prominent Liberian politician, Dr. Togba-Nah Tipoteh, standard bearer of the Liberian People's Party (LPP), expressed concern of threats to his life allegedly being orchestrated by government security officers. Commenting on the nature of the plan, Dr. Tipoteh said that the plan was to take effect soon based on a meeting held last month, according to information he had received.
"Yes, my life has been threatened. The latest in the series of this is information given to us by a certain Mr. Flomo who was part of a meeting held on March 8 of this year where security officers are alleged to have launched the plan for attacking me which will be for my elimination and... attacking other politicians in the country."
When questioned as to who was behind the threat, Dr. Tipoteh responded, `"Well, actually, I don't know because I have received this letter, this information, from someone who said that he was helped under the Susukuu School for Guns Program. This means this person is a former combatant and who is grateful for what we might have done for him, and he wants to share this information with us so that we will take the necessary precautions."
Lately, there has been a spate of alleged threats on the lives of leaders of civil society who have been quite critical of the Taylor regime and the continued rise in political repression in the country. Just recently, James Verdier, a human rights advocate and director of the Catholic Justice and Peace Commission (JPC), complained of similar threat on his life. He said that certain "prominent" members of the Taylor government were plotting to kill him
The Perspective also received information about a week ago, alleging a secret coup plot that was being planned in which some politicians and key members of civil society were to be framed for complicity to overthrow the government.
Meanwhile, Mr. Milton Teahjay, former Deputy Minister of Information, and Media and Public Relations Advisor to President Taylor, has been reported arrested while attempting to flee the country for the safety of his life. Mr. Teahjay was recently fired by Mr. Taylor and disrobed of his government privileges.
---
For subscription information, go to: www.theperspective.org
or send e-mail to: editor@theperspective.org