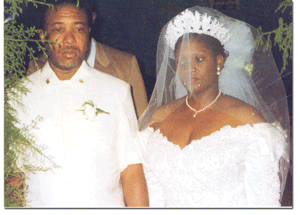 Charles and First First Lady Jewel Taylor
Few days ago, many people both at home and in the international community were shocked when Charles Taylor said, "I am entitled to more than one wife, and I can dowry as many as four women in this country, and it is the responsibility of my wife to even find the woman and bring her to me." He said if his Christian wife could not understand this, he would ask the traditional elders to educate her. Mr. Taylor accused his wife of dereliction of duties because she did not put in efforts in finding a co-wife for him. Taylor's admission came amid rumors that he recently got married.
But such admission of getting married to yet another wife must not be a surprise. Over the years, Liberians have witnessed Taylor's promiscuity. After getting "married" to one Fatumata, the Liberian ruler declared in his Unification Day message delivered on May 14, 1998, that it was treasonable to incite ethnic division in the country and urged Liberians to fight tribalism through inter-marriages. "It will be a treasonable offense for anyone to incite ethnic division such as identifying people by their tribes," Mr. Taylor said.


"Ethnic Krahns should get married to gios and Mandingoes should get married to Lormas... We must get married to the Mandingoes too. As the father of the nation, I will take the lead", Mr. Taylor continued. Since then, he and Fatumatta have appeared in public together. On several occasions, she referred to him as her husband and she is now called Mrs. Fatumatta Yatara Taylor.


Though Mr. Taylor's intention was to put the rumors to rest by admitting that he has gotten married, his failure to name the new "traditional woman" to whom he has gotten married to has inflamed the rumors. Many Liberians want to know their third First Lady and her traditional affiliation.


Government sources, on condition of anonymity, told The Perspective that the lady Mr. Taylor got married to recently is a very young girl in her early twenties (about 22 years old). The sources alleged that the girl is one Vicky Allison. According to the sources, her mother is of a Tunisian origin whereas her father is a Ghanaian. She is said to have graduated from St. Teresa Convent about two years ago. The sources intimated: "at present she is very much pregnant. The girl was to get married to a Lebanese fellow. But once Taylor saw her light pigmentation, the game was over for the Lebanese guy."


She and her mother along with a several sisters live in the house that Dr. Amos Sawyer was residing in (building said to be leased by the Liberian government) when Taylor's thugs (the so-called ex-combatants) attacked him (Sawyer) and Conmany Wesseh on November 28, 2000. The house is said to be a very big and it's near Lakpazee.


Human rights Defender James R. Torh was charged with sedition where he said in a speech delivered at Tubman High: "Where is the government? Yes, everyday they are crying no money but they are buying cars for girlfriends; one baby, one car." But that was three years ago - it is now one baby, four cars. According to the sources, before Taylor came into the girl's life, she and her mother used taxi services to get around just like most Liberians do. But right now, she has about four new cars with electricity at their home twenty-four hours around the clock


Our efforts to obtain contact information for the girl were futile.